integrated part of core system
Shoprating
This popular module is developed by www.web4design.de in close cooperation with MailBeez.
Plays well together with Shoprating Invitation Advanced module with auto-login, frequent-buyer recognition and more pro features
Installation
This module is already part of the MailBeez System. You only need to insert the code-snippet for displaying the badge into your store-front. Please Go to integration manual for more information.
customers reviews - self hosted
This add-on allows your customer to vote your stores and give a review.
With a nicely designed widget you can display the reviews in your shopping cart.
The design and layout is comparable to hosted solutions, but you have full control on your ratings - and all for free.
The module hooks into the BeezDesk CRM Customer Insight so you will the notifications for new shopvotings. Also you are able to see shop voting for the customer you currently work on.
following screenshots of the module:
More Information
Looks great and improves conversion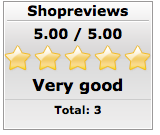 The new MailBeez Shoprating Module allows your customers to rate your store and service. Hosted on your own server with complete control.
Store-Ratings are known to increase conversion and for this good reason there are many online services for hosted Store-Ratings.
However not everyone likes the idea of not having control on the ratings, sharing customer data and getting locked into a monthly fee. That's why we teamed up with www.web4design.de, who has developed a beautiful and great working for self-hosted store ratings already helping 1000's of online stores to increase conversion.
Store ratings or product reviews? Both!
Store ratings and product reviews are complementary, so you can use them both in your store.
We recommend to ask your customers for a store rating short after delivery and e.g. 30 days later for a review of their purchased products. Two natural points of contact which improve your customer interaction and brand recognition - and will increase your revenue!
Professional Rating-Page included
Clicking on the badge opens a professional designed page showing details about the ratings and allowing customers to place a new rating as well (better invite them using MailBeez ;) ).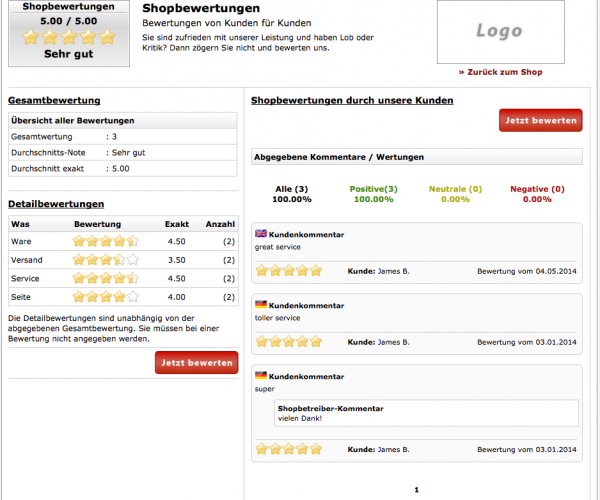 Get serious - go advanced
While the free module already works great, professional stores will go for the MailBeez Premium add-on "Shoprating Invitation Advanced" which provides a range of advanced features like auto-login and recognition of regular customers which will generate up to twice as many ratings. And you can even integrate real-time ratings in any MailBeez-generated Email by placing a simple template tag in MailBeez Emails
go to Shoprating Invitation Advanced
Integrated into free BeezDesk CRM Customer Insight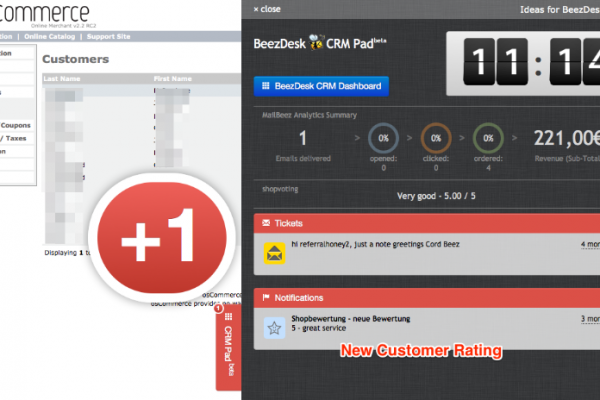 Just integrate the free BeezDesk CRM Customer Insight into your Store Admin panel by adding a single code-line and you will get notified about new customer ratings, see the current rating summary and have direct access to the configuration panel of the MailBeez Shoprating Module!