PARTNER:
---
Newsletter2Go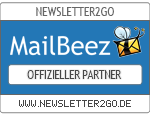 Newsletter2go.com is official MailBeez Partner
Newsletter2Go – simply better newsletters
Newsletter2Go's email marketing software is specifically tailored to (online-) retailers, agencies, associations and your typical middle-sized company. With Newsletter2Go you can create and design professional email marketing campaigns with ease and then dispatch them with our secure sending system. Subsequent to sending a newsletter, you will receive detailed evaluations as to its success.
Furthermore, Newsletter2Go offers unique functions such as 1 click product transferral, automatic recipient synchronisation, A/B Split tests and many more indispensable functions that make Newsletter2Go's email marketing software stand a head above the rest.
About Newsletter2Go
Newsletter2Go Gmbh is the German software provider for the email marketing software of the same name, 'Newsletter2Go.de'. The company was founded in 2009 by Christoph Beuck and Steffen Schebesta. The two founders have remained as managing directors at the company ever since and work with 13 employees to constantly improve the product. With over 31,000 customers in more than 50 countries, Newsletter2Go is one of the leading providers of sales-driven email marketing software.