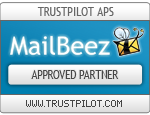 Truspilot is approved MailBeez Partner
---
TRUSTPILOT – A TOOL FOR THE CUSTOMER
Trustpilot makes it easy for you to assess the reliability of a company you're considering purchasing from.
We gather all the crucial information available about the company into one easy-to-use format, allowing you to make an informed choice every time you shop online.
Find more information
Get up to 20% discount with MailBeez
Trustpilot Partner are able to optimize their return of investment with the following MailBeez Module:
24 months of free updates included! Buy now and get future features for free
This module requires a licence to run. During the purchase process, please make sure to enter the store URL for which you will use Mailbeez, and you will receive this personalized licence with the download information. If you are not sure, please
contact MailBeez
before placing your order.